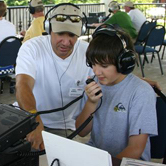 Foundation
To begin transmitting on amateur radio you need to pass a simple multiple-choice test called the Foundation exam.
Intermediate
The Intermediate Licence carries with it more privileges and also more responsibilities on you as a radio amateur.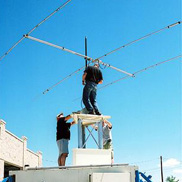 Advanced
Maybe you are ready now to take on the UK's ultimate amateur radio qualification: the Advanced Radio Communications exam leading to the issuing of a Full Licence.
---
Foundation

Getting Started.
The Foundation licence is your gateway to amateur radio. The course and exam that leads to a licence issued by the UK communications regulator Ofcom, and entitles you to take a unique identifier called a callsign which will be used to identify you when you are transmitting. The courses take place at our club and is conducted by our experienced radio amateurs. Most of the training is practical, there is a small amount of radio and electronics theory but only enough for to get the most out of your radio station. The course usually lasts one day with the exam at the end. The exam is very straightforward and consists of 26 multiple choice questions which you have 55 minutes to answer. Your exam paper is checked by the invigilator straight after the exam so you will have a good idea if you have passed before you leave.
---
Intermediate

The Next Step.
The main advantage of stepping up to the Intermediate Licence is the increase in permitted operating power. You will be able to go from the 10 watts of the Foundation Licence, up to 50 watts as an Intermediate Licence holder. It's actually not necessary to take a course to sit the Intermediate exam, but we would strongly recommend doing so. First, a practical skills assessment is taken which demonstrates your competence in basic electronics. This involves soldering a rudimentary circuit together using some of the components you learned about on the course. This is followed by an examination of 45 multiple-choice questions each with four possible responses, which covers the remainder of the syllabus. The examination lasts one hour and 25 minutes.
---
Advanced

The Full License.
Many privileges and responsibilities come with a Full Licence, including a higher power limit and operating in many other Countries without further formal application. A technical exam has to be passed that requires serious study for success, so you must be prepared to invest a good amount of time and effort in your studies. When studying for the Advanced Radio Communications exam there is no requirement to take a formal training course, this is because the examination is entirely theory based, with no practical training element. Assessment is by a written or online examination paper of 62 multiple choice questions each with four possible responses.
---